Why these popular games are no longer available for players? A decade ago, in 2009, Walt Disney Studios purchased the rights of Marvel movie and television franchise. Walt Disney studios didn't want to be associated with gambling and the possible negativity that may come from it, which is why after the Marvel purchase had been made, they came out with a statement that when the licensing agreement with Playtech will end, these licenses won't be renewed. On 31st of March, 2017, the licensing agreement that Playtech had with Marvel had come to an end and it resulted with the unfortunate event of the online slots games being discontinued.
Marvel Slots: How it All Started
It's safe to say that we've all heard of the Marvel franchise at some point in our lives. And the reason why you're now here on this page is simple- you wanted to play Marvel jackpots by Playtech software, however, they are no longer available. But let's talk about Marvel and the famous progressive jackpot slots players loved so much.
The history of Marvel dates back to 1930 when the first editions of Marvel comics were released (back then they were called the Marvel Mystery comics). The very first copy of Marvel Mystery Comics was released in 1939 and sold over 800,000 copies, so it was clear that people loved the concept of the comics. Now, looking back at it, it only makes sense that decades later they were turned into slot machines.
From Comics to Movies and International Merchandise
With the first release of Marvel comics, it was clear that not only people love comics but also they love heroes. In some ways these Marvel comics allowed people to live out their fantasies, to feel like heroes themselves and just jump into the wildest adventures.
The characters and superheroes became iconic and inspirational for both younger and older generations. Therefore, the next step was to take the comic books and turn them into action movies that were produced by Marvel Studios.
The very first superhero movie inspired by the comic series was Punisher. Their continued success is truly incredible as the Marvel superhero franchise is still emerging with new movies being released up to this day as well as their merchandise being sold all over the world. But now let's talk about the games.
Marvel Slot Machines
Back in 2009, the gaming giant Playtech software that has been known for their classic, often movie and television show based slot games, released their very first Marvel-themed slot. That was followed by a total of over 30 Marvel games released. Players had the ability to play a wide range of slot games with their favorite superheroes.
The games were designed to offer the best user experience which was combined with exciting jackpots and thrilling bonus features. The slot games didn't have fixed paylines which meant that players could adjust them to really fit their betting preferences. But for the players that didn't want to play slots, there was also the option to play Marvel scratch cards.
One thing was sure – the Marvel games had the potential to give life-changing wins, and, well, they did plenty of times. Some of the most popular Marvel slots include:
Daredevil
Elektra
Iron Man
The Incredible Hulk
The Avengers
Wolverine
Why Marvel Slots Were so Popular?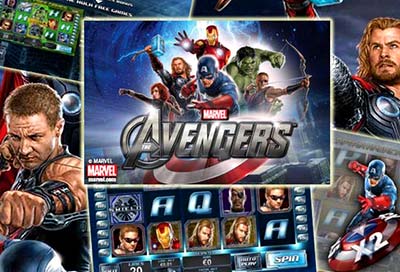 As we mentioned earlier, people love superheroes and the Marvel television shows and movies gained instant popularity. And many of the people who loved the comics and movies were intrigued to gamble with their favorite superheroes. Not only that, but Playtech did a fantastic job of delivering high-quality slots that catered to almost every taste.
The range was so diverse that even those players who usually wouldn't go for action slots, found themselves getting hooked on the intriguing story-lines and charismatic, heroic characters.
What's also great was that you didn't have to be an avid Marvel movie fan, per se, to enjoy the games. All the slots started with a short introduction trailer to present players with the slots' storyline and main characters. However, the games were a real treat for Marvel fans. What could be better to win big while having fun with your beloved superheroes?
And when we say Win Big it's really no exaggeration as the Marvel games were famous for their jackpots. These jackpots could be won randomly and they had the potential to award with millions! So to sum it all up – adrenaline rush that comes from chasing a life-changing jackpot combined with fantastic design and exciting superheroes was more than enough to make Marvel slots beloved by almost everyone.
Marvel Slots We Will Miss
It's safe to say that Marvel slots played an important role in the online gaming world and set a high standard for hero-themed slots and jackpots in general. They were loved, talked-about and everyone had an opinion on them. The games also brought great exposure to Playtech software and many players became fans of Playtech games afterwards. Here are some of the games the Slotsbot team will miss the most:
The Avengers– it was a thrilling 5 reel and 20 payline slot that had an intriguing free spins bonus round with Captain America, Thor, Iron Man and Hulk features.
Elektra– this game was all about the power of women and we think it's important to show that superheroes can be of both genders. Also, the free spins bonus feature with multipliers was always keeping us on our toes, hoping for the big wins!
The Fantastic Four– friendship and companionship combined with thrilling superpowers. This game had an entertaining free spins bonus round truly fantastic winning potential due to the 4 bonus features!
Now that we've had a silent moment to represent how much we'll miss the Marvel games, it's time to move on. With the way the gaming industry is evolving, there are thousands of games for you to enjoy and although they're not Marvel themed, we are sure you'll find plenty of games that bring your inner hero out! Browse through our extensive online casino games selection and try them out for free!