Nolimit City is one of the quickest growing gaming companies that have caught our attention. They are inspiring us, showing that hard work and dedication pays off- in the past year, they've signed many content deals with well-known operators and nowadays Nolimit City is a name people recognize.
Interview with Nolimit City Game provider
We here, at Slotsbot, are all about appreciating good casino games and we can proudly say that we've added Nolimit City games to our game collection. With that being said, we were curious to hear more about the people behind the brand as well as what they have in store for the future. We were happy that Malcolm Mizzi, Director, Commercial Operations, agreed to talk to us and showed us that at Nolimit City- nothing is the limit!
I want to start by saying congratulations with Nolimit City success- you've managed to become a well-known game provider and have established partnerships with major operators. Can you tell us the story behind Nolimit City?
Why, thank you! It's just been a couple of years since we've gone live with a few standalone games and having just recently embraced a commercial strategy since I joined in late August 2017. So far, we're already seeing the fruits of our hard labour, although there is so much more that needs doing to become the next trend setters.
Nolimit City was born in the tech-vibrant city of Stockholm, officially public in 2014, thanks to the joint efforts of two of our founders who have had an extensive background in the online gambling scene having worked together for well-over 10 years. They've always dreamt of the day they could create their own "NetEnt" and work closely with operators to develop great looking games but also serve a greater purpose in the true sense of partner-relationship.
Nolimit City Limited is registered in the gaming friendly-Island of Malta, licensed by the MGA, UKGC and having quite recently opened our second tech subsidiary, in Gurugram-India.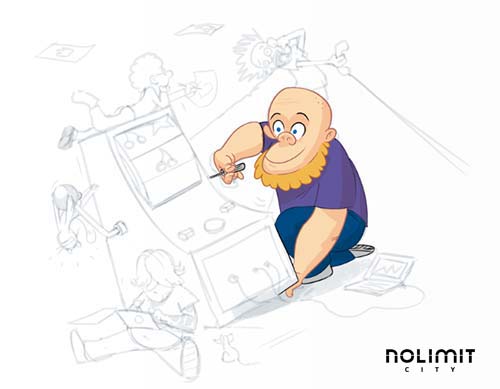 Nolimit City game collection consists of 15 titles and all of them are quite unique, starting from the game themes and up to the features. As a game provider, what would you say is your goal? Who is the Nolimit City player?
The Nolimit City player is of any gambling legal age, sexual orientation and race – it doesn't matter, we develop our games to stand out and appeal to all. That said, we also understand that we're the new guys in the scene and have drawn the attention of newer generation players who like brighter, more 'gamified' looking slot games of a certain polish – we're not excluding the more classic 'volatile', 'Book of Ra' players though.
At Nolimit we're constantly learning from every single game release – as you rightfully mentioned, all our games look completely different, making this one of our USPs undoubtedly – this gave us the opportunity to explore and understand the appetite of players out there. Whilst we'll always want to keep pushing innovation and never stop exploring, we are learning what players really want. That last sentence right there makes me so excited for what's to come!
Lately many game providers are adapting to the popular Megaways trend, where instead of having regular paylines, the payouts depend on the Megaways. What do you think of this trend? Is it something we might see in the future from Nolimit City?
We love Megaways! Hats off to BTG for creating such a well-loved mechanic -who can really argue that it's not a success!?
Without a shadow of a doubt they have created an incredible trend that's here to stay. But we will always keep striving for the next thing out there, everyone should – no doubt that the mechanic is a success and will stick – one can even debate that a few of the more recent 'licensed by' providers who took on the mechanic, may even be doing it better than the originator….
The question is, how much of the same will players take in? I'm sure that the mechanic will live on to be it's own type of game, it already has a huge fanbase, but what's next? Who will create the newest trend first? What will make players stick to it in the same way or more? These are the questions we ask ourselves internally – the simple answer to your question is that we will be addressing this in our own view and will be doing things the 'Nolimit' way.
The gaming industry is evolving with every day that passes by and it's incredible how much the gambling world has changed over the past couple of years. And with that also comes competition- what would you say is the thing that sets Nolimit City games apart from other game providers? There are many things you should be proud of, so don't be shy!
We like to keep things simple and clear – our games stand out because we intentionally wanted to break out of the norm and reflect who we are as a company. Having mentioned one of our USPs in a previous question, I believe the other one is being humble, albeit always striving to be the best.
One of our core values has always been that we should always be approachable and willing to work with anyone that wants to give us a chance. This goes especially to companies such as yours! If you want to write about us or feature us, then why not repay the gesture, right? True, we may not be getting a direct monetary return, but we are getting something more valuable, and that's brand recognition, which means more than anything in this industry.
Players have become well aware of game supplier brands these days, no longer do a handful of suppliers dominate alone, players now know who their game suppliers are – the goal is to stand out in the players eyes and the rest will follow.
Can you tell us a bit more about people behind Nolimit City? What's your favorite thing about the company itself and your role?
One thing that I truly love about Nolimit is the immense diversity pool throughout all our offices. I can't count the number of nationalities we have working with us from all over the world, but it's simply amazing to be part of an international family. Nolimit has a seasoned gambling background, several of my colleagues have worked at companies like ComeOn!
and NetEnt, myself coming from a Recruitment and Commercial Account Management background from the likes of Pentasia and NYX GG, respectively. I can say that everyone has an open platform to give their input – we share knowledge and give people the opportunity to just be themselves and shine amongst all others. Nolimit listens and wants to hear everyone out.
We've already marked our calendars for the closest thing to look forward to, which is the release of the Wild West themed slot called Tombstone, on the 2nd of May. Aside from that, what exciting things we can expect from Nolimit City in the future?
Great of you to mention our next release, Tombstone! We're super excited for this one and have high hopes for the game to be a crowd pleaser. As of 2019 we've shifted to fifth-gear with content production.
Our partners and fans are to expect a lot more content this year, pushing our calendar release portfolio to 12+ new games vs last year's 6 titles. We're also embracing a more open approach to offering our games to operators that show an interest towards timed-exclusive periods, prior to global release. Tombstone is a case in point.
We've had massive operator interest in the game early-on and decided to offer Tombstone for a 2 week exclusive period to the operator that showed the most interest and eagerness to promote the game to the public. But we want to be fair and share the love, so from this year we're offering all our releases to published as timed-exclusive periods amongst several well-known brands. We're also planning on expanding to a few more regulated markets (such as Romania and Denmark), thanks to the support of our 3rd party partners and, at the same time, step up our presence in one of the most dominant regulated markets out there, the United Kingdom. We have high hopes for that one, but we're prepared to grow at a rapid rate!