Easter is just around the corner and it means that spring is in full bloom. With the nature awaken, we hear the birds singing early in the mornings, flowers are blossoming and the sunshine stays longer embracing us with its' warm caress. And while you may not believe in Santa Claus – don't even dare saying that the Easter Bunny is not real!
All jokes aside, now is the perfect time to take all your favorite Easter themed slots for a spin and we've listed some of the most exciting Easter slots below. Not only they will make you smile and laugh due to the captivating design, but they'll also bring you excitement with their many unique features that hold great winning potential. So with that being said, how many eggs will you find to add to your basket?
Easter Eggs slot is one of the most popular Easter themed slot by Play'n Go software. It's a lovely looking slot with 5 reels and 20 paylines and it's a great slot for low-rollers as it allows you to bet as little as 0.20£ per spin. The design is in vibrant colors and it takes you to the countryside, which is filled with blossoming flowers, bunnies, chickens and roosters. However, where's the fun part you may ask? Well the game offers 2 bonuses – pick bonus and a free spins bonus.
Collect 3 Egg Basket symbols and that will trigger the bonus round. In the bonus round you'll have to pick eggs to reveal your prize – but this is no regular pick bonus as you can win up to 500x your bet! And even that's not it. If you collect 3 Egg symbols on base game, you will be rewarded with free spins and it's up to you, which ones you'd like- either more free spins with smaller multiplier or more volatile feature with less spins but high multiplier. The game may look cute but believe us – it can bring sweet wins!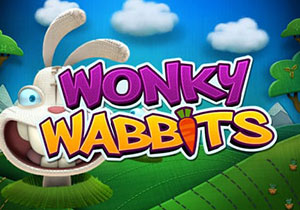 Wonky Wabbits is a game that speaks for itself. It was released back in 2014, but it's still a slot that everyone enjoys. Why? Well, it's pretty simple. The slot has 5 reels and 15 paylines, but the game pays both ways, so in reality you'll be playing a 30 payline slot. The game is a creation by NetEnt, which is the industry leading game provider, especially when it comes to video slots. Regarding gameplay, Wonky Wabbits is quite simple yet entertaining slot.
The main symbols are rabbits' favorite vegetables, and to make it more fun, whenever a wild symbol will land, it will turn an additional symbol into wild for a better winning combination. Visually it's very entertaining as every time it happens, the rabbit will pop out to turn the symbol into wild. Although this game doesn't have a free spins bonus round, it can be a great balance booster with its' wild-multiplier feature. It's safe to say that this is a slot that will make you laugh!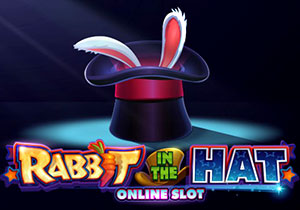 Who doesn't like surprises? Especially when it involves pulling bunnies out of hats, just like we've seen magicians do in movies. This game comes from Microgaming software and it involves magic, rabbits and exciting bonus features. The game has 5 reels and 9 paylines, which makes it the perfect fit for low-rollers.
The reason why we like this game so much is simple – the bonus features, which includes cash, wild reels, free spins and mystery feature, can be triggered on base game just by having a wild symbol on the same reel as the magic hat. There are no scatter symbols, therefore you don't need to chase 3 or more scatter symbols to trigger bonus round. And who doesn't like a cash win on base game? This slot is full of surprises and the win potential is definitely there. How about you give it a try?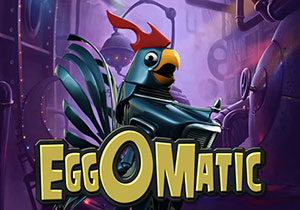 Eggomatic slot has been around for a while and it's definitely one of the first games that comes to mind when we think of the Easter celebration. The game takes you to this new-school looking factory, where a machine, called Eggomatic (therefore the slot name) is manufacturing eggs that hold exciting prizes. This slot is unique in many ways, one of which is having no letter or number symbols as the game symbols – instead it has colorful, both angry-looking and happy birds.
From technical point of view, the slot is produced by NetEnt software provider and has 5 reels and 20 paylines. When it comes to features, it offers coin wins as well as free spins and wilds, which are represented as eggs that move from the top right part of the screen to the left side. In order to trigger free spins round or receive any of the coin wins, all you need is a wild symbol underneath the egg and then it'll drop. But the  best part of the slot, of course, is the free spins bonus round- there on every spin you'll be able to catch egg prizes for some egg-citing wins!
Do you remember how in movies, and maybe in your childhood too, you've seen people leaving milk and cookies for Santa? Well, why would it be different with the Easter bunny? He's hungry too and it's time to feed him with some delicious carrots. And that's what Fat Rabbit slot is all about- that and of course big wins! The slot comes from Push Gaming and offers 5 reels and 50 paylines. If the bunny lands and there's also a carrot anywhere on the screen, it will trigger the free spins bonus.
There the rabbit will start off as being small and with each carrot that he eats, he will get closer to the next stage, where he'll grow bigger and award with extra free spins. Oh and did we forget to mention that the rabbit in the free spins round will be a wild symbol? Therefore, the winning potential is truly exciting.