Warlords: Crystals of Power – Graphics & Software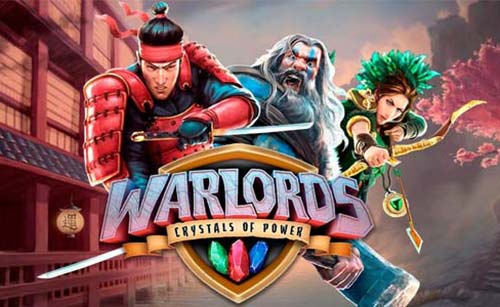 Warlords – Crystals of Power Slot can be played on mobile, tablet and computer devices. The graphics look incredible, the reels are staged in the middle of battle and you can watch solders constantly walking to join the fight behind the reels. The background track is powerful and invigorating.
The symbols of Warlords – Crystals of Power Slot reflect our 3 main characters and their house identities. The 3 Warlords are all Stacked Symbols taking 3 squares on the reels. Which will you become, how will you win the war and how much treasure will you secure?
The Samurai is worth 300 coins for 5, he also has a Wolf, which is worth 120 for 5, and a Samurai Mask at 60 for 5.
The Priestess is worth 200 coins for 5, she has Jaguar animal symbol worth 90 for 5 and a Priestess Mask at 50 for 5.
The lowest worth warlord is The Barbarian at 150 coins for 5, his Wild Bore at 75 coins for 5 and His Horned Mask at 40 for 5.
Warlords Symbols and Special Bonus
Wilds: The Wild has a paytable worth of 300 coins for 5. It subs for all symbols except the Scatter, creating higher worth betlines.
Random Wild Overlay: This can become active at any stage during the main game. It uses a new reel set, which has no Scatters and will add extra Wilds to the reels in 1 of 3 ways:
Barbarian Hammer Feature: Awards 4 Wilds in a square shape on reels 1-4.
Priestess Arrow Feature: Awards 2-5 Wilds on reel 1-5.
Samurai Sword Feature: Awards 2-5 Wilds on reels 1-4.
Scatters: There are 3 different colored Scatters, flags from each Warlord's house and each triggers different Free Spins if you get 3+ matching Scatter. Scatters can only appear on reels 2,3 and 4.
Re-Spins: In the main game 2+ matching Scatter will instantly trigger Re-Spins, additional Re-Spins can be won and the Scatter can appear on any reel during Re-Spins. All other symbols are inactive, only Scatter symbols will fall from the reel frame to push you into Free Spins.  If you have 2+ different color Scatters they must first battle.
Battle Feature: this is triggered if you have 2+ Scatter on the reels from different houses. At the beginning of the battle the Scatters will randomly transform into matching colors and trigger Re-Spins.
Final Chance: This feature is triggered if you didn't manage to get any additional Scatters during the Battle in order to trigger Free Spins, A rock is explosively launched at the reels and awards either a coin prizes of anywhere between 3- 100x your original bet or the additional Scatter you need to trigger Free Spins.
Free Spins: Each Free Spins game uses it own reels and only the color Scatter for that house can appear during the round.
Blue Scatter Barbarian Free Spins: This will award a minimum of 9 Free Spins. Only Warrior, animal symbols and Blue Scatters are present on this set of reels. Get the Scatter to an add additional 3 Free Spins
Green Scatter Priestess Free Spins: Awards 7 free spins and additional Scatter symbols will add an x1 multiplier for each Scatter collected.
Red Scatter Samurai Free Spins: Grants 5 Free Spins and every Scatter will become a Sticky Wild.
The Costs of War
War in never cheap and it is up to you to determine the cost of winning. Entering the battle to become the one true victor starts €0.15- €150 as there are 10 bet levels. Coin values start are €0.01- 1.00. RTP is 96.89%. Employing strategy when playing slots will greatly increase your understanding of how to place bets in order to win and how bet lines and levels work. Check out our slots strategy now.
Warlords Slot Review: Our Thoughts
Putting the amazing graphics and fantastic narrative aside this game is brilliant, because at every level it pushes you towards the highly lucrative Free Spins rounds. This really is a 5 star slot that is masterful and easily the best slot of 2016. NetEnt Software has a huge portfolio of online slots you can this and other slots here