TXS Hold'em Pro Series Game Review and User Guide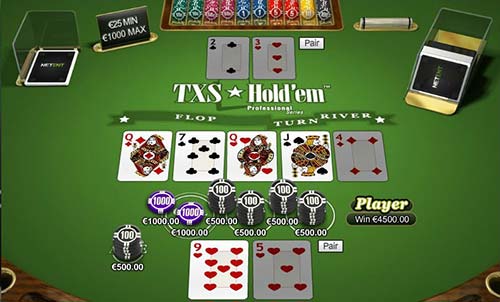 Visually stunning as ever, all NetEnt casino table games follow a similar format of a clean green felt table, bordered with smooth wood, player place, and dealer.
Classical and custom to NetEnt software is the lounge music used as the background track. Players can alter sounds, sound effects and play of speed under the game settings.
TXS Hold'em Pro Series is an online poker variant from NetEnt software and we love it, exuding class and suave graphics, this is a table game you should not miss. The Texas Hold'em variant has been around since the 1900s and is by far the most popular online poker variant.
It is appealing and easy to get to grips with, so a good place for both experienced players, and new alike. It is played with 1 deck of 52 cards. The player is pitted against the dealer, both have 2 cards each and there are also 5 community cards. The winner is the person to form the highest 5-card hand from all 7. The Flop bet is always double the cost of the Ante; Turn and River bets are equal to the Ante.
How to Play TXS Hold'em Pro Series
Place an Ante
2 cards are dealt face up to you and facedown for the dealer.
Place a Flop bet to continue play or Fold to give up the round losing your Ante
3 community cards are dealt in the middle of the table.
Choose whether to bet more and make a Turn bet or continue to play without betting any more coins by clicking Check.
Community card 4 is dealt.
Make a River bet or Check.
The 5th and final community card is dealt.
Showdown: This ends the hand by deciding the winner from your hand and the dealer's hand using your 2 hand cards and all 5-community cards to make the best 5-card hand. Best hand wins, equal hands tie.
TXS Hold'em Pro Series Bets, Payouts & Hands
Return to player is 99.37%, minimum bets are €1 and maximum are €40.  Chips are available in €1, €5 and €10. This is an attractive table for new players or existing poker lovers and has bets to suit all levels. TXS Hold'em Pro Series payouts are 1:1. If both you and the dealer have the same outcome, bets are returned.
For each moment of play when you must decide whether to add additional bets or check, you need to be assessing what hands your are likely to be able to form and how much risk there is attached to the hand. If you have a bad hand you shouldn't be investing in the round too much, or at all, depending on the hand, unless you a bluffing. Whereas, if you have a very strong hand you should bet at every chance to increase your winnings.  The followings hands are playing in TXS Hold'em Pro Series:
Royal Flush: 5 consecutive cards of the same suit from 10 to Ace.
Straight Flush: 5 consecutive cards from matching suits.
Four of a Kind: Any 4 cards of the same value.
Full House: 3 cards of the same value + 2 cards of the same value.
Flush: 5 cards from a matching suit.
Straight: 5 consecutive cards from different suits
Three of a Kind: 3 cards with the same value.
Two Pair
Pair
Texas Hold Em Pro: Our Verdict
TXS Hold'em Pro Series can be played on Mac, Windows and Linux operating systems. NetEnt games can all be played as free online games before adding any credit. If you loved TXS Hold'em Pro Series, you should try out the following card tables, Blackjack Classic, Red Dog Progressive, Caribbean Stud, or Casino Hold'em.