Pontoon Graphics and Software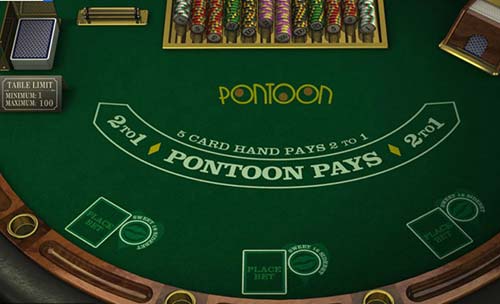 As always with NetEnt casino's table games, Pontoon looks fantastic. The table is classic casino design, depicting the most important information. The table features look great and very authentic. You play from the wooden edge of the table, which helps create a genuine casino feel.
The sound tracks change throughout the game, which is a nice touch, moving through Jazz to Classical, something to suit most players. You can play Pontoon with Linux, Mac, and Windows.
Pontoon Rules
The aim is to make 21 from your cards, beating the dealer and winning the hand. The deck is made of up 6 packs of cards that are shuffled before each round. Cards 2-10 are of face value. Aces are either 11 or 1. J, Q, K are valued as 10. You can play up to 3 hands at any time with this version of online Pontoon.
Twist: Receive another card.
Stick: stop your play and receive no more cards, you can only stick on hands of 15 or higher.
Split: To split your cards into two hands. This can be done when your first 2 cards are of the same value.
Buy: This allows you to increase your wager if you have a good hand. It costs the same as your original bet. You are buying your next card, and this will be dealt automatically. You can twist again after buying.
Bust: If you go over 21 you are bust and your wager automatically goes to the dealer.
Hands at Pontoon
Pontoon: This hand beats all and is made up of an Ace and face card or 10.
5 Card Trick: The second most powerful hand you can make is made up of 5 cards and totals 21 or less.
3-4 Card Hand: this is a normal hand, using 3 or 4 cards to make 21 or less.
Other than these hands the winner is the player who gets closest to 21 without going bust. Except if you and the dealer have equal hands, then the dealer always wins. So if you both have 21, neither of which is Pontoon, the dealer wins.
The dealer must always draw up to 16- they cannot stick below this. They must also stick on a hard 17 and twist on a soft 17, (Hard hand is a hand without a an, or with an ace, but only one which can be counted as 1. A soft hand contains an Ace that could be used as either 1 or 11 without going bust.)
Pontoon Coins and Bets
Chip values are 1, 5 and 10. Lowest bets are €1 and highest bets €40.00. There is however a chance to up this bet if you play all 3 hands €40.00 per hand, making total bets €120.00 or €240 if you double on every hand. RTP is set at 99.66%. Both Pontoon and a 5 card trick will pay 2:1. If you are looking for tables with higher bet limits click here now to play other free table games.
What We Thought about Pontoon
Blackjack fans out there will love Pontoon as it adds extra features such as a 5 card trick. It's also quick and easy to pick up, with few rule variations. We loved the fact you can play 3 hands and really up your betting limit and winnings this way and of course, as always, the perfect graphics and table design. NetEnt have a great portfolio of other online games, all of which can be played for free.