Fresh Graphics for More Fresh Fruits Slot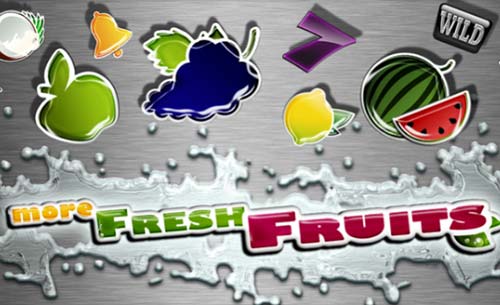 Now with 3D and re-energized symbols, this online slot looks great. Following mostly the original, simple, design; metal background, dripping with water and a funky 80s sound track, More Fresh Fruits Video Slot is uplifting, bright and colorful.
The reels also have added animations, as any symbol on a winning bet line will become covered in water.
More Fresh Fruits Video Slot can be played on Mac, Windows and Linux operating systems, or your mobile/tablet device for touch screen. You can find all setting, rules and the paytable under the menu button.
More Fresh Fruits – Fruit Stall Paytable
Fresh Fruit Slot from Endorphina software was praised for its fantastic paytable, More Fresh Fruits Video Slot is no exception, achieving this again with masterful and high paying symbols.
The quite literal Star of the paytable is the Scatter, these can land anywhere on the reels and will reward a massive 20,000 coins for 5.
Number 7 is next and is worth 1,000 coins for 5 symbols on a winning bet line.
The Liberty Bell is worth 300 coins for 5 symbols, the Watermelon and Coconut are worth 200 coins for 5 and the Grapes, Lemon, Apple and Strawberry and the lowest paying symbols at 100 coins for 5.
The Wild has no paytable worth, but can substitute for all symbols except the Scatter. They have the potential to extend and create winning possibilities on the reels.
More Fresh Fruits Video Slot, is all about the impressive paytable and it certainly brings a buzz of excitement to this online slot.
Risk Game: This is the only bonus function of More Fresh Fruit Video Slot. It is a side bet, win or loose everything card game that is offered after each bet line win. All you need to do is pick a higher card (from 4) than the dealer. If you do your win amount is doubled, if not you loose everything. Joker beats all cards.
More Fresh Fruits Bets and Limits
Coins range from €0.01- €1, there are 10 bet levels and 40 bet lines, this makes maximum bets 400 credits and minimum 40 credits. This gives a huge potential for high rollers to place large bets and for other players massive amount flexibility in what bets they place. Ensuring you have the correct slots strategy in place for a slot is of ultimate importance to your bets and prize amounts. Check out some tips here.
Overall thoughts on More Fresh Fruits slot
More Fresh Fruits Video Slot certainly hits the spot with main game wins, we regularly had big wins whilst playing, however, there are no bonus rounds or free games and whilst this is a strong and great slot, it lacked some entertainment and excitement.
Depending on what you look for in a slot, this could either be perfect for you, or just missing that special, extra something.
Play other online slots that are bursting with bonus features, or play More Fresh Fruits Video Slot if a strong paytable and regular, sizable wins is all you need from an online slot.