Jimi Hendrix: Graphics and Software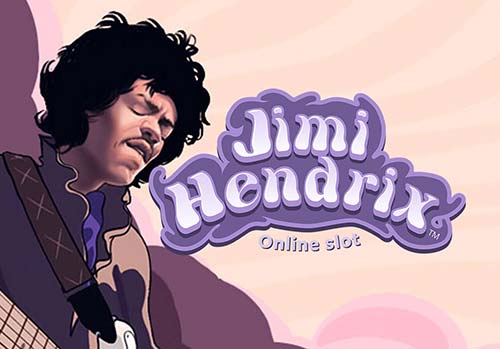 There was a huge amount of hype about this online slot, led by the NetEnt casino trailers and marketing campaign. It is such a shame to say that a major downside of Jimi Hendrix Slot is the graphics. The reels are dull and empty as the symbols fail to liven them up.
The user controls also seem to have been neglected; the only thing you can manipulate on this slot is the spin speed. Why are there no song options or other jazzy add-ons? Pastel colors dominate this slot and a grey reel background makes everything look a bit deaden.
There are some reel animations upon wins, which add a slight touch of life. Needless to say, we felt quite let down in the face of the description of a psychedelic slot from NetEnt software. Jimi Hendrix online slot can be played via mobile, tablet and computer in browser.
Symbols at Jimi Hendrix
The symbols used are all in keeping with the Hendrix theme; there are all manner of Hendrix memorabilia, Guitars, the man himself (in a couple of differing ways), peace signs, love hearts, flowers, records and loud speakers (not to name them all). The pay table is not he highest we've ever seen, but it's really nothing too much to moan about. However, it won't attract those looking for big wins, which limits the slots potential. The Red Guitar has joint highest worth with the Jimmie Hendrix Wild at 400 for 5. The lowest paying symbol is the number 10 at 50 for 5.
Jimi Hendrix Slot Bonus Features
During the main game two features can be activated, along with the usual Wild:
Purple Haze: activated when Purple Haze symbol lands on reel 1. Causes all 10, J, Q, K and A to transform into Wild symbols for that spin. P.H also becomes Wild.
Red Guitar Re-Spin: 4 or more activate, reels re-spin once, if a Red Guitar symbols lands on the reels another re-spin is granted. The round ends when a spin ends with no Red Guitar symbols.
The Bonus Rounds
Hendrix Pick and Click: Activated with 3+ Scatter, which can appear on reels 3, 4, + 5. You click loudspeakers that have the potential to show 4 different symbols, when players have 3 of the same symbol that prize is given. Prizes are coin wins, Cross Traffic Free Spins, Purple Haze Free Spins and Little Wing Free Spins.
Coin wins: awards between x8-x30 multiplier on initial bets.
Crosstown Traffic Free Spins: 6 Free Spins with Wild Reels appearing for each spin. For this you go to a new set of reels and the change is a nice shake up, although not much more.
Purple Haze Re-Spins, between 6-12 Re-Spins are awarded. Remember that during this round all 10, K, Q, K + A's become Wilds.
Little Wing Free Spins, grants between 6-12 Free Spins with 3-5 overlay Wilds showing randomly on the reels for each spin.
It was a little hard for us to get super excited about all the bonus features because over 200 spins we only managed to play Purple Haze once and nothing else.
Bets at Jimi Hendrix Slot
Minimum bets are €0.20 and maximum €200. There are 10 bet levels and coin sizes range from 0.01- 1.00. Theoretical RTP is 96.9%. Learn more about slots strategy here to increase your winning potential.
Jimi Hendrix Slot: Overall thoughts
Taken as part of a series this slot is disappointing, both Motorhead and Guns N' Roses slots had way more riveting bonus features, graphics and user controls. Yes, Jimi Hendrix slot is also packed with bonus features, but they are hard to reach and wins small due to low paying symbols. Aside from the guitar legend this slot holds little traction for players. Click here to play this or other top rated slots with us for free today.