Jack Hammer 2: Graphics and Software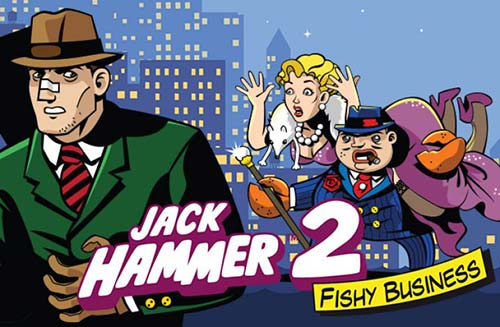 Jack Hammer 2 slot has updated and better graphics than the original Jack Hammer slot, which adds to the narrative of the comic. The background remains as Grand City, but set on the river with deep blue background. The Crab Handed evil Don Crabby is our baddie and he is attempting to take the beautiful singer Pearl.
You must fight your way to save Pearl and earn your fortunes in this classic good vs. evil comic sketch slot. The music is a catchy 1920s jazz band that ups the tempo to perfectly match and increase player excitement during special features and wins. You can play Jack Hammer two from pretty much any device, including PC, Mac, Linux, Android and OSX.
Symbols and Payouts at Jack Hammer 2
The pay table of Jack Hammer 2 slot is quite low, it's actually lower than Jack Hammer 1, but hopefully, this will be negated by the bonus features and 99 pay lines. The highest character is Jack Hammer at 500 for 5, followed by Pearl at 250 for 5, Don Crabby at 150 for 5, his Two Goons at 100 for 5, the Boat Harbor is 35 for 5, Speed Boat 25 for 5, Barrel of Fish 20 for 5, Gun Case 20 for 5 and Pearl's Microphone 15 for 5.
Jack Hammer 2 Slot Special Bonus Features
Jack Hammer 2 slot has added extra bonus features and therefore more opportunities for winning. These are:
Wilds: The Wild symbol can be substituted for any other symbol, except the Free Spins symbol on the reels to create bigger winning combinations.
Free Spins: To activate Free Spins with an x2 multiplier you need 5+ Free Spin symbols on the reels.
5 = 10 Free Spins
6 = 13 Free Spins
7 = 16 Free Spins
8 = 20 Free Spins.
Fewer Free Spins are given in Jack Hammer 2 slot than it's predecessor, but Random Wilds are included.
Random Wilds: Random Wilds can be gained in Free Spins; they sub for all symbols except normal Wilds and Free Spin Symbols.
Sticky Wins: A Sticky Win is triggered when you have a win or 3+ Free Spin symbols on the reels. All winning symbols are held, whilst all others re-spin, creating the potential for huge wins and that you may actually be able to gain a whole reel screen of the same symbol. The reels will keep re-spinning so long as you are winning. This feature brings new tension and excitement to the reels as you watch more and more matching symbols gather. If you need to brush up on your slots strategy before playing click here now.
Jack Hammer 2 Slot Machine Bets
Coin values start at €0.01 up to €0.50 over 10 bet levels. This makes the minimum bet €0.50 and maximum €250, both are quite high in comparison to other slots, this may restrict the audience slightly, but will also bring in new players that are looking for high bet levels. RTP is 97.1%. Check out NetEnt casino here, you can learn all about the online game creators and play other online slots.
Jack Hammer 2: Our Thoughts
The electric, retro comic book style is still a winner, as is the depth of story and character shown here. The Sticky Wilds are the real attraction for us. The low pay table and only having an x2 multiplier is rather disappointing, unfortunately. We had a great time playing Jack Hammer 2 slot, but we didn't actually win very much. You can play Jack Hammer 2 slot and other free online slots for free from recommended casinos by clicking here.