Streamlined, Classic Software for Blackjack Super 7s Multihand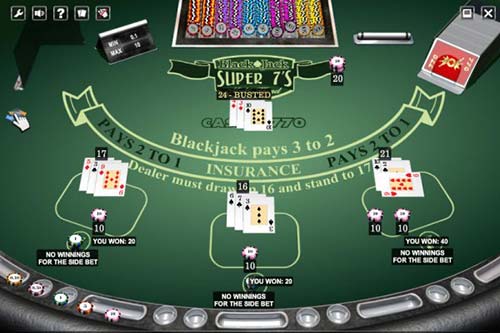 Aim of the Game
The rules of Blackjack Super 7s Multihand are very simple; the aim of the game is to beat the dealer's hand by being closer to 21 without going over.
The highest possible hand is Blackjack (A+10 or face card). All cards have normal values except the Ace, which can be 11 or 1. J, Q + K are 10.  Blackjack Super 7s Multihand offers a highly profitable additional side bet, which must be placed at the start of the round.
Blackjack Super 7s Multihand Bets and Paytable
The minimum bet for Blackjack Super 7s Multihand is €0.10, the highest €10, this is per hand. Chips are available at €0.10, 0,50, 1, 5 and €10. RTP is 99.59%, for the main game.
Normal win pays 1:1
Blackjack 3:2
Even Money 1:1
Insurance: 2:1 (on the insurance bet only).
Blackjack Super 7s Multihand Super Seven Side Bet
The 7s side bet is a fantastic addition to standard Blackjack online. It costs only €1 and can be placed on each hand played. You are betting on the outcome of 7s per hand, it is a highly rewarding side bet and due to the low cost, relatively low risk. Although, RTP for the bet is much lower than the main game at 90.99%. You can win the side bet independently of what happens with your hand. It pays as follows:
First card is a 7 the side bet will pay 3:1
First 2 cards are both 7s of different suits: 50:1
First 2 cards are 7s of the same suit: 100:1
First 3 cards are 7s of different suit: 500:1
First 3 cards are 7s of the same suit: 5000:1
Overall thoughts on Blackjack Super 7s Multihand
This is a fantastic Blackjack table to play at and one of Isoftbet's most exciting due to multihand playing and the addition of the 7s side bet. Players are sure to love the element of risk and complexity this adds. You can play this and other online table games for free with us here.