Arabian Nights Online Slot Review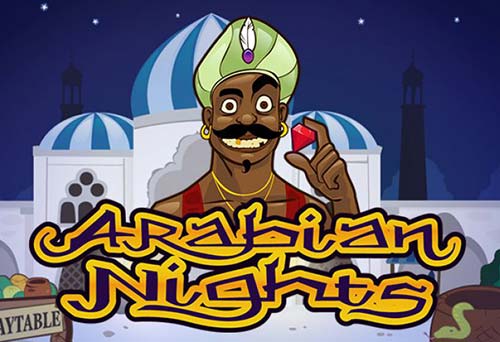 The graphics and look of Arabian Nights online slot are fairly simple, frankly this makes it more user friendly. The screen and controls are un-cluttered; the symbols are large and clear making it easily navigable for all users.  There are no animations or real music instead what you hear is a night time orchestra of crickets, owls and other night time rustles, and sound effects as the reels spin. It's almost akin to a relaxation tape and gives the player a sense of lonesomeness whilst playing.
Arabian Nights online slot sweeps you into the mystical and historic world of the Middle East and a world of our childhood.  We may not all remember the tales read to us in detail, but the names of Ali Baba and the Forty Thieves, Sinbad and Aladdin's Lamp should not fail to pull you into a reminiscent glow. Ever dreamt of being a nomad, wandering the Persian Gulf, wandering through bussling markets or riding a camel over the great wilderness of the Arabian Desert? Then welcome to Arabian Nights online slot.
This slot offers 5 reels, 10 lines, scatter and wild symbols along with free bonus spins so  there is little reason you should not be playing it. It delivers a progressive jackpot, what more could you need. Continue reading to discover why this game is so popular? The benefits for you as player, if you have the nerve to up your bets and tackle the slots to try for the jackpot.
Theme and Symbols at Arabian Nights
Set in the 9th to 13th century and featuring ancient Arabic design this online slot looks fairly simplistic- and it is. Focusing on mosaic tiles that form letters and numbers. The slot has 10 symbols: 9, 10, Jack, Queen and King, Camels, a Tent, a typical single edged sword known as Scimitar, an Arabian Man and a Genie Lamp.
To win Arabian Nights online slot you should match identical symbols. Matches must be made from left to right across the reels, with the highest combinations paid. The 2 symbols you need to know more about and keenly watch for are the Arabian Man and the Genie Lamp.
The Arabian Man is the Wild symbol; he is used as a substitution for any other symbol -apart from the scatter- to form a winning combination. He is also a multiplier and can double the payout of any combination. The Genie Lamp is the scatter symbol. If two or more of these appear anywhere on the reels the bet is multiplied.
2 scatter symbols = 2x value.
3 scatter symbols = 5x value.
4 scatter symbols = 20x value.
5 scatter symbols = 500x value.
If 3 or more genie lamps appear a Free Spin bonus session is automatically triggered.
Free Spins Special Feature
Triggered by 3+ genie lamps anywhere on the reels and gives 15 free spins as well as 3x the value of any win during this bonus feature, unless you hit the jackpot. You cannot alter you bet or pay line during a free spin; it remains the same as the spin that triggered a Free Spin. You can however keep triggering Free Spins whilst in a Free Spin session if you get another 3 lamps.
As is normal with NetEnt online slots you can play this game for free first to acclimatise to the settings, rules and functions. You can also auto play. Or if you would like to learn more about slots strategy you can follow this link. Check out the top list of current online slots click here.
If you are left in any confusion the game rules can be found under the '?' symbol, bottom left of the screen, but note this opens a separate window for your convenience.
Arabian Nights Payout and Jackpot History
The biggest non-jackpot combination is to match 5 scimitars, which gives a win of €1,000. Jackpot wins happen by matching 5 Arabian Men (the wild symbol), but you must play all 10-bet lines- the maximum bet. If you match 5 and you haven't placed the maximum bet you will miss the jackpot and although you will be left cursing yourself you can still achieve the second largest win of the game at €5,000. These are not big payouts by NetEnts usual online slot standards, but this game is all about playing all out and gunning for that jackpot.
The biggest win to date from the jackpot is €8,635,872 and it regularly pays out at a six-figure amount. The smallest ever win is €782,956. Average payout time is 1 year 36 weeks. The average payout percentage is 96.5%, including the jackpot and 90.6% without. Max bets are limited to €5 which would be a major drawback if this weren't a progressive slot, but as it is this feature makes it one of the best playing points of the game!
Don't forget you must play at the max bet level to be in with a chance of that jackpot.  Minimum and maximum bet is one coin €5 or €0.50 cents, but with up to ten bet lines. Only the highest win per bet line is paid. 5% of each bet goes towards the jackpot and you can play at local or global level for the jackpot depending on which online casino you are using. The full pay table can be found on the left of the game screen just underneath the slot.
Arabian Nights Slot – The Judgement
Progessive slots are fairly unusual as the jackpot continuously grows until one fortunate player triumphs and this really is the best reason to play this online slot. NetEnt didn't need to focus on overwhelming graphics and enticing music, everything is in the power of this jackpot and it may as well be the sole attraction. This game is perfect for new starters as it doesn't take to much skill and can be enjoyed by all levels of gamers due to the low bets. The theme is memorable as it transports players into their childhood, but other than this and the jackpot it is a very simple online slot.