Roulette 3D Software, Graphics and Gameplay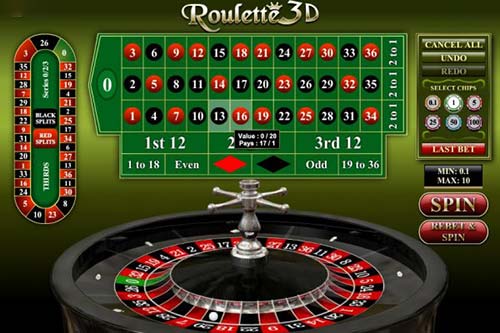 Roulette 3D online features an all-new setup, gone is the usual Isoftbet blue felt table, instead the focus is the Roulette wheel, which sits in the bottom center of the screen, it looks fantastic from all perspectives, is highly glossed and constantly turning, inviting you to lay your bet.
The betting table sits above the wheel; this is where you place your bets. To the right are the player controls, and to the left, the group bets racetrack. Everything looks great, plays seamlessly and is very refreshing, due to the new table set up. You'll play in silence, except for the computerized croupier who announces the win and the clink of your chips as you lay your bets.
All you need to do to win with Roulette 3D Online is bet on the corresponding number/s on the table where you think the ball will land on the roulette wheel. This makes Roulette online great for both new players and experienced players alike.
Roulette 3D Types of Bets and Limits
Chips are available from €0.10-10, these are also the highest and lowest bets per single number. The limit for the whole table is €1000 per spin, as you can lay multiple bets. There are easier and harder types of bets to win in Roulette online. The harder bets have better payouts and are called inside bets, the later pay less well and are called outside bets.
Inside Bets
Straight:  single number bet, pays 35:1.
Split: bet placed on the divide between 2 numbers, pays 17:1
Split 0:  Pays 17:1
Street:  a row of 3 numbers pays 11:1
Trio: betting on 0/1/2 pays 11:1
Corner: 4 numbers in a square, pays 8:1
Six Line: 2 streets together pays 5:1
Top Line: 5 numbers on the top lines, Pays 8:1
Outside Bets
Column or Dozen:  either all numbers vertically down 1 line or the 1st, 2nd or 3rd dozen numbers, pays 2:1
Red/Black: all red or black numbers, pays 1:1
Odd/Even: all odd or even number pays 1:1
First/Second Half: either 1-18 or 19-36, pays 1:1
The group bets racetrack, on the right-hand side of the screen, allows you to easily and quickly lay some of the group bet options. Isoftbet casino advertise all their Roulette tables to have an RTP of more than 99.5%, which is another great reason to play with them.
Overall Thoughts about Roulette 3D
Re-designing the table layout and putting a big, central, 3D Roulette wheel makes this one of Isoftbet's best Roulette tables. It brings the player closer to the action and looks brilliant. This is a great table for any Roulette player and you can play it for free with us here. You can also try other Isoftbet tables for free here.