Caribbean Stud Poker Graphics and Software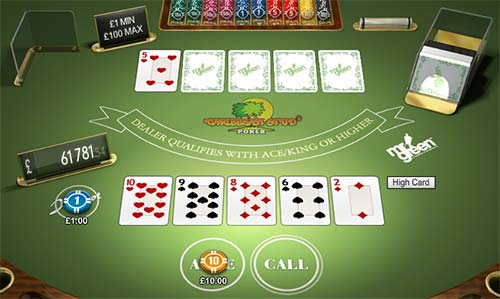 The graphics and software look great on this streamlined table, which is presented in the usual green felt style with places for a player and the dealer, their cards and chips.
The graphic quality is top notch and accompanied by the customary, classical, jazz music. Caribbean Stud Professional Series can be played on Mac, Windows and Linux operating systems.
Caribbean Stud Game Play and Rules
Players must first place an Ante bet, 5 cards will then be dealt to the player and 5 to the dealer (4 face down, 1 face up). Based on the cards, decide whether to Fold and loose your Ante bet or Call (which costs double the Ante Bet) to continue play. Once you have placed a Call bet the dealer's cards will turn, this will decide the winner. To win you must have the highest hand, but the dealer must also Qualify to play, he can only do this if he has either an Ace or King in his hand, if the dealer doesn't qualify he pays your Ante bet 1:1.
If the dealer qualifies and looses the hand the player wins the Ante and Call bet 1:1. If the dealer wins the hand, you loose all your bets. If you have matching hands all bets are split, this is called a Push. Of course, different hands also carry different worth in terms of payout
Poker Hands and Payouts
Royal Flush: A, K, Q of the same suit. Pays 200:1
Straight Flush: 5 cards of matching suit, in number sequence. Pays 50:1.
Four of a Kind: 4 cards of the same rank. Pays 20:1
Full House: 3 cards of the same rank and 2 from another equal rank. Pays 7:1
Flush: 5 cards of any matching suit. Pays 5:1
Straight: 5 consecutives cards of mixed suits. Pays 4:1.
Three of a Kind: 3 cards of the same ranks and 2 of different ranks. Pays 3:1
Two Pair: 2 sets of pairs and one differing card. Pays 2:1
Pair: 1 pair of cards and 3 of different ranks. Pays 1:1
Ace + King: Ace + King and 3 different cards. Pays 1:1.
Max prizes at set at €50,000, excluding Jackpot wins. Chips are available in 1, 5 or 10-euro denominations. RTP for Caribbean Stud Professional Series is 97.42% and bets are a minimum of €1.00 and a maximum of €40, which is a little low for a professional series table. Want to play other online free table games with higher bet limits?
Caribbean Stud Professional Series Jackpot Bets
This is where things get extra exciting in Caribbean Stud Professional Series. When you place you Ante bet at the beginning of each round, there is also an extra Jackpot side bet, which is limited at €1.00 per bet. To win the Jackpot you must secure a hand higher than 3 of a Kind. The Jackpot Paytable is as follows:
Royal Flush: 100% of Jackpot.
Straight Flush: 2500:1
Four of a Kind: 250:1
Full House: 100:1
Straight: 10:1
Three of a Kind: 5:1
Overall Thoughts of Caribbean Stud Professional Series
Caribbean Stud Professional Series looks and plays fantastically. It is streamlined, clean and classic. Adding a progressive Jackpot bonus makes this a really attractive and exciting poker table and one not to be missed. We recommend you play for free before betting to get accustomed to the table. NetEnt software offers this fantastic option with all their games, which means you can play lots of other free online games.